Founding Members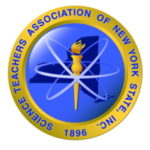 The Science Teachers Association of New York State (STANYS) is New York's oldest and most respected professional organization of science educators. Our membership of Pre-K to University and Informal science educators creates a collaborative association that is invaluable for our organization and for science education in New York State. http://www.stanys.org/
Contacts
---
The New York State Technology and Engineering Educators' Association (NYSTEEA) is the professional association of Technology Education teachers. We are working to ensure the technological literacy of New York State students. NYSTEEA creates and encourages opportunities for professional development and collaboration of Technology teachers. We support student participation and achievement in technology learning activities and competitions. Our organization is not for profit and is guided by an Executive Board and an Advisory Council. http://www.nysteea.org/
Contacts
---
The New York State Society of Professional Engineers (NYSSPE) represents the interests of professional engineers, totaling more than 25,000 licensees in New York State, practicing in all disciplines (civil, structural, mechanical, electrical, geotechnical, environmental, etc) and practicing in all practice settings (private sector consulting, industry, government, and education).
Mission
The New York State Society of Professional Engineers is an organization of engineering professionals from all disciplines and employment sectors that advocates licensure, promotes the ethical, competent and lawful practice of engineering, and enhances the image and interests of its members and the engineering profession. http://nysspe.org 
Contacts
---

The Association of Mathematics Teachers of New York State (AMTNYS) was founded in 1951 and currently has about 2,100 members statewide. AMTNYS, its Affiliate Organizations, and the New York State Education Department, represents a driving force in the area of mathematics education in New York State.
The purpose of AMTNYS is:
To insure better coordination of all activities of mathematics groups in the state.
To afford a medium of exchange views regarding the teaching of mathematics
To further the cooperative study of problems relating to the teaching of mathematics at all four levels, elementary, junior high, senior high and college.
To encourage active interest in mathematics and mathematics education.
To serve as liaison between the State Education Department and the field.
Contacts